Long time no hear guys! Hope ya´ll are well.
Yep. Still at it, still building n designing tube amps. That said.. As some of you old timers are aware i not only own a crapload of PE guitars, but among them some of the early ones too.
Like the PE-150 and the PE-160.
Judge my surprise when i run into ,a basically, closet classic PE-130. Yep, the "Paulie" to have back in 1976/-77.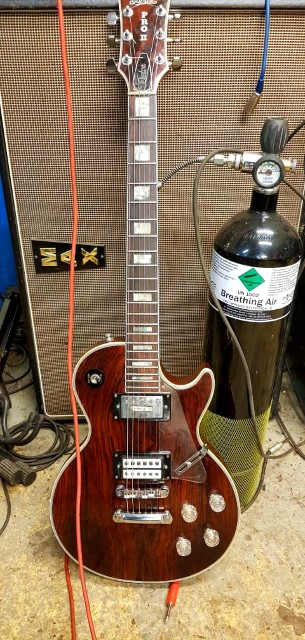 What´s more one that´s been left stock. Basically at least. The 130 could, to my knowledge, be had in one finish only and that was "Jakaranda".
..n it IS a take on its own seeing the Les Paul law suit guitars.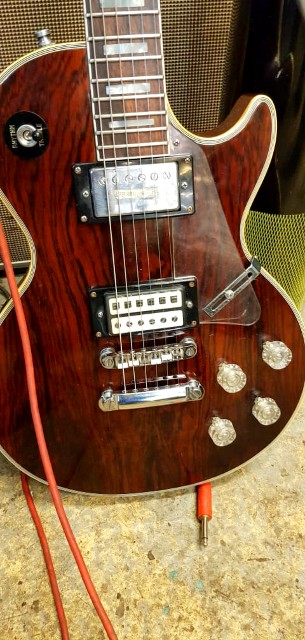 Uhu. That "Jakaranda" finish is at least IMO rather pleasing. Good looking guitar to say the least.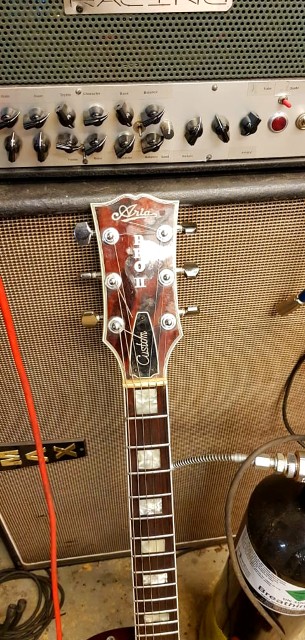 Then of course with the very early logo setup.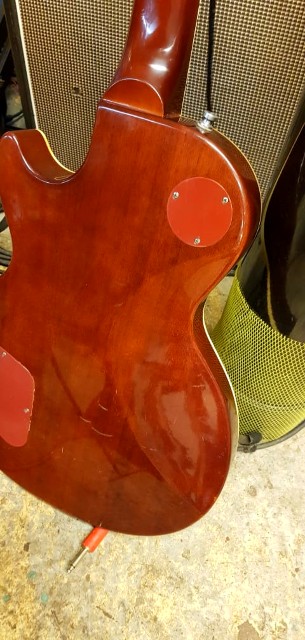 ...n it differs on several points. Vs the Gibson as much as later Arias. Yep. Belly cut for instance.
Weight? Haven´t put it on a scale but..about on par with many of the others made back in the -70´s i´d say. Ie; rather heavy IOW. Guess approx 4kg.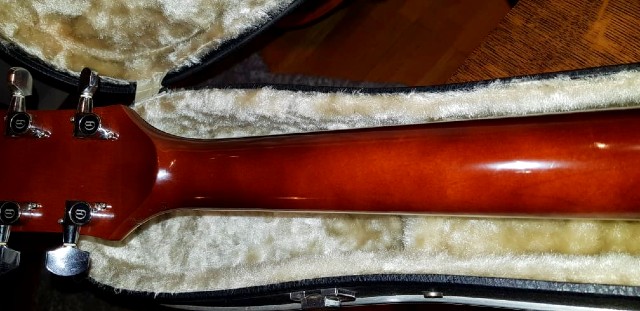 Uhu. Neck is one piece, and mahogony at that.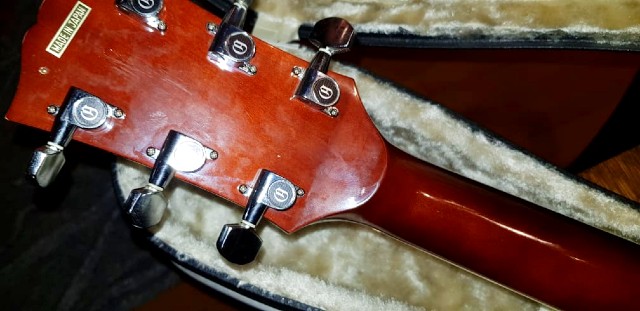 While the typical -70s volute is there as well.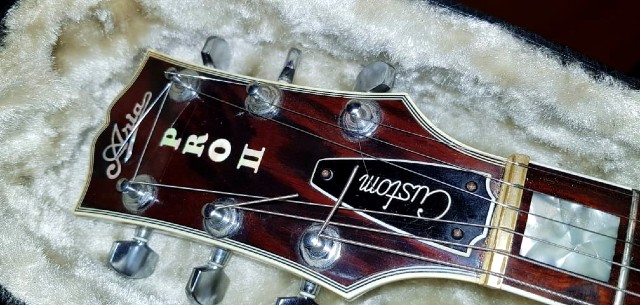 Here an up close and dirty.. Pic says it all i guess.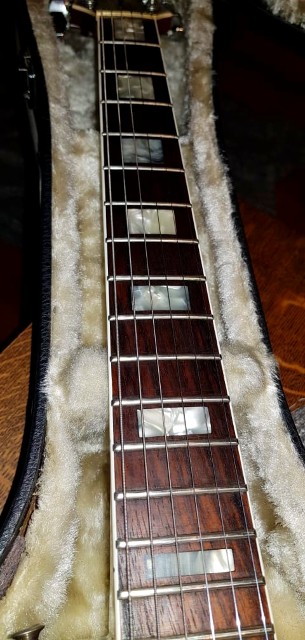 Took a razor blade to the fret board, followed up by a number of layers of oil. Fretboard is rosewood as evident.
Therein lies the only "drawback" i´ve found. Fit/inletting of the inlays could have been done with greater attention to detail but hey.. can´t very well win ´em all. Especially not so with these very very early Pro II´s.
The top nut is out of brass on this one and..i dunno if stock or not. Point being that the fit of it simply doesn´t fit the width of the neck at "point of impact" vs the board. The nut is like 2mm wider (bass side), for whatever reason.
Cleaned the cutouts out, which turned out to be a good idea. Full of old crud..certainly didn´t help tone one yota.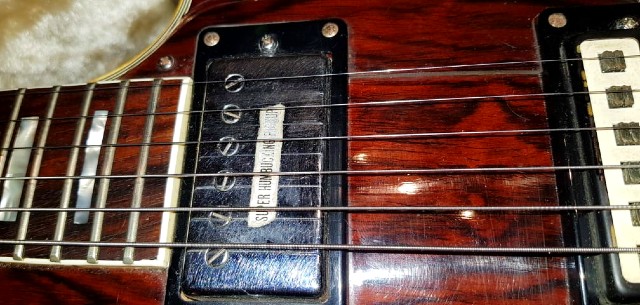 This is sweet tho..
Gotta love it. Sticker says "Super humbucking pickup". Yes. Of course it is..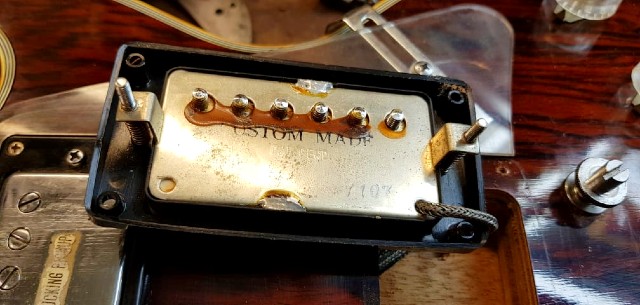 Uhu. The stock neck pickup. "Custom made" and "patent applied for". What´s there to add?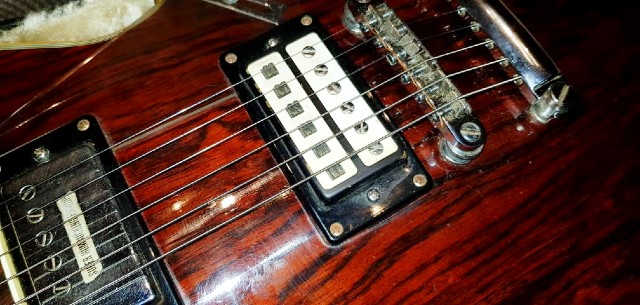 In turn the rather weird looking stock bridge pup. It IS stock no doubt, just check the catalogue pics of the thing.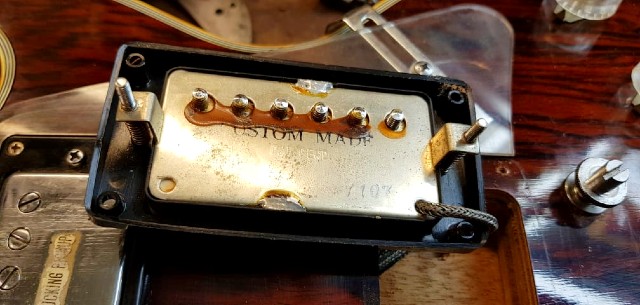 Yeah. Just as "Custom made" and "patent applied for".
What can be said is that they are dead ringer PAF´s really. Measures DC around 8,3k´s so..that kind of turns out correctly too.
As i got to hook the thing up..not all was well in Utopia. It hummed even with the dials turned to zero. The pickup selector had been replaced, a Switchcraft unit in place, but..albeit that might have been a consideration it was in reality not.
What turned out was that the leads for the pots had been swapped so signal from the pickups hit the wiper connection on each volume pot.
Played it like that for tonights rehearsal and..worked and worked well. I DID lack that typical "Uncle Mat" attitude to the sound tho (like the MMK-75´s got for instance). Shrill and top end lacking, which..was a matter of how the pots were wired.
Redid that correctly and while at it added treble bleeds as well (100k in series with 1nF over the leading prongs for each volume) which turned out to be EXACTLY what the Doc ordered.
THERE it is!!
Sure enough. Different animal, and NOW we were getting somewhere. As to if that hookup of the pickups has been there since day one or not..anybodys guess on a 45yr old guitar.
Now tho a different matter and the thing turned into a tone machine IMO. WONDERFUL guitar.
While on the bench..fresh strings, a setup and then intonation. Yes Sir..thaaaaaaank you very much! Done.
Magical.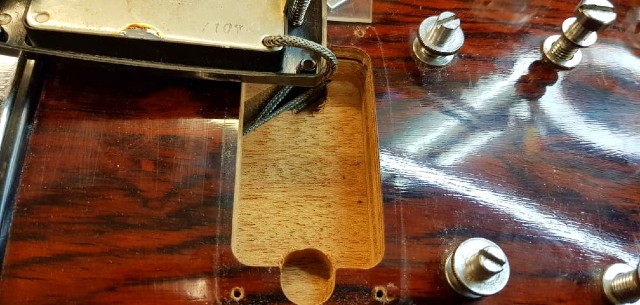 Yeah. Right. Guess this one tells the story as far as body material.
Already at this point Matsumoku had gotten their junk together. My PE-150 of the approx same era..wonderful P-90 guitar that has seen its fair share of use in my hands.
The PE-160 (Dragon strat) then on the other hand, as many of us have arrived on..hardware is a darn joke seeing the rest of the build and needs replacing.
This PE-130 though not so.
Can it be improved upon (read- were the later law suit Pro II´s better?)? Yeah. I guess. Having fooled around with loads of them over the years..
Mid range. My LS-600P for instance. To be compared to this PE-130? Yeah, to an extent i´d say. LOVE the LS-600P (the more i play the more of a sucker i become for P90´s and PAF pickups) and it indeed IS a wonderful guitar. Again one that sees a fair amount of action with me.
Where we´re at.. a toss.
The higher end LS guitars? Hm. Might be they carry more traditional bells&whistles but..Like my old 1000 for instance.
Nah. This 130 is not only a VERY cool addition to my Aria Pro II collection but a very very usable such at that. Plays like butter after the small jobs invested - in my opinion.
Worth taking care of, to be used as well as handed TLC on occasion? Certainly so.
For the upcoming weeks, i rehearse twice a week with the two bands, it´ll be used and used hard. Verdict to come in short but thus far.. real pleasing piece of kit to work with - from many aspects.