Progress to date, fellas....
This whole bloody headstock has been a veil of tears; I got the headstock to the point where I was ready to dress it with the decals I made. The first pass - after doing everything that "they" said, the decals reacted with the surface and crazed up... sand back, start again.... tore the decals getting them on AND reaction with surface. Bugger it!! Sand the whole damned thing back and get it smooth, apply decals; instant furring of the wood. Right. Need sanding sealer. Sand back, apply sealer, apply decals.... alight! It's OK!! Wait for everything to dry properly, blow on first coat of clear. Easy, big fella; don't want to get too cocky... Apply second coat of clear.
Instant crazing of the decal.
(runs around shed, screaming and pulling what's left of hair out!)
I walked out at that stage and left it for a couple of days. After looking at it again, it's not too bad and I'll not re-do it again at the moment, but a little later on. In the meantime here's what I'm left with...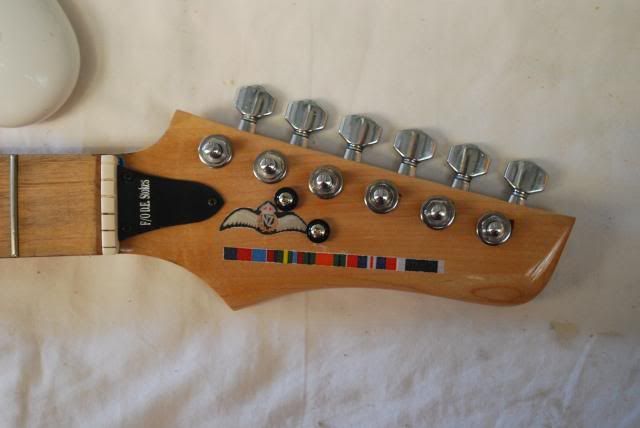 Nice new (!) Westone Pantera tuners...
Note that the retard engraver put Dad's name on at 90º - after having lost the thing for 2 months - to how I ordered... note also the chamfer on the fretboard where it meets the nut..
I may need to cut a new nut as this one's slots is obviously too deep... Don is checking his one for measurements...
I can only hope that the painter is not having this much trouble with the body artwork!
I suspect he's not!!