I recently acquired a Memphis MG300 Neck Thru guitar. I was planning on it being a project but darn I had no idea how much work it really needed. Fortunately I'm not out that much on the purchase.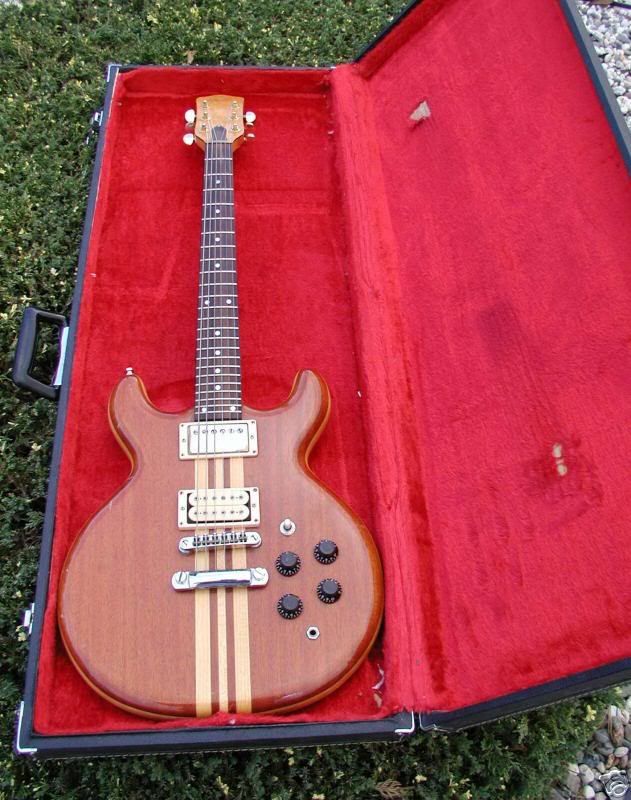 You can't tell from the picture but there are lots of dents, deep scratches, and breaks in the laminate. It doesn't look like a relic it just looks like junk. I've spot lacquered some of the deep areas and them buffed it out. Looks a lot better but there is still quite a few problem areas. Being that it is my project guitar I figured why not strip it and redo the guitar in nitro lacquer? I was planning on using a chemical stripper to take off the laminate but I'm not sure if it will work the same on laminate as it does on lacquer based paint. Any advise before I go at it? If you are wondering what other problems there are? Well sprung frets and uneven frets. I can get the frets leveled but I like beefy frets, plus there are places on the fretboard that have been filed. So I might replace the fretboard. The cost of this is half the price of a refret. The guitar came with a Maxon pickup in the neck which is the crappiest sounding pickup I've ever heard and a Dimarzio Super Distortion
. However, I need a strat like sound and will be either rewiring the Super Distortion so it can be coil tapped or replace it as well. So if anyone has any extra MIJ pickups laying around let me know! Thanks
Last edited by Randallflagg on Fri 12 Jan 2007 02:47 AM, edited 1 time in total.