We grub along with it
It's not bad, in addition to the 4-cutter thicknesser (power-adjustable ± 0.1mm increments) we have to make do with:
30" Wadkin rip saw;
Ancient 'Crossley' 10" Cross-cut with a 15' bench either side which also feeds a
4-cutter Wadkin spindle moulder with traction feed;
Wadkin Tenoner (quite capable of doing 10" x 3" tenons)
Chisel Morticer (bit of a toy as it struggles when it has a length of 10 x 3 clamped to it - really wants replacing with a big chain morticer);
4-cutter Wadkin Overhand Planer with 4' adjustable feed tables;
Tilt-table Bandsaw that'll go up to a 2" blade;
and an ancient belt-driven pillar drill that was rescued from the Cooperage at Brakspeare's Brewery in Henley-On-Thames (now sadly closed & the site redeveloped as posh houses).
The muck is removed by an impressive amount of ducting feeding a rather loud 4-bag extraction unit that lives outside next to the 20' x 10' timber store.
Most of that little list was got for nothing or next to nowt by luck. We were in the right place at the right time when a local joinery company closed after a fire, & one of our guys used to work for British Rail at Guildford depot, so when they closed their woodbutchery shop we got a few nice bits of kit at scrap value (I think we paid £50 for the ripsaw).
Makes life a bit easier when faced with this kind of thing: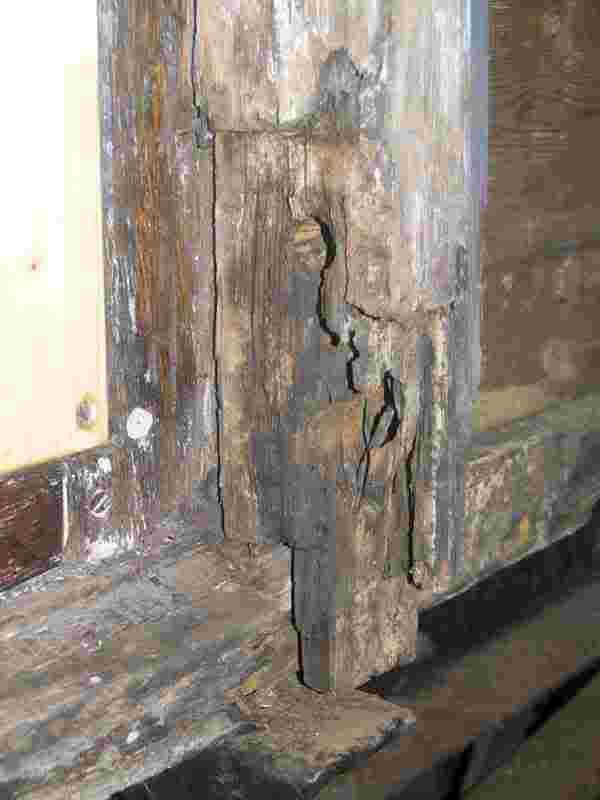 That used to be a 3x3 oak pillar.
When I'm next down there with the camera I'll furnish you with some machine pr0n.
P.