Got this gem off ebay....
So, my Conrad ES335 copy came in today, and i started right in on the restoration.......
Unpacked and neck bolted on again: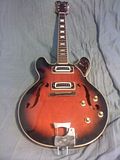 After throwing one string on temporarily for testing the electronics, it was time to get down and dirty..... Stripped off the bridge, neck, and tuners and bushing for the tuners...
I started off by fixing the broken head stock.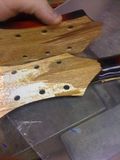 Once that had plenty of glue and clamps galore, i moved on to my forté.... Polishing.... (i make jewelry as one of my hobbies)
Bridge close up before: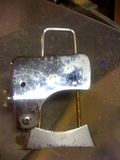 After:
Then i went to work on the extremely filthy tuners..... Before is on the right, after is on the left (didnt think of the sides when i snapped the pic)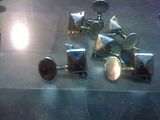 Once i was done with the tuners, i went at the body (which turned out to be filthy too) with some lemon pledge and Planet Waves Shine spray..... Hot dang does this thing shine!!!!!!!
After the front was done, i did the same for the back and sides..... And you can see the rest of the collection on the wall above it too....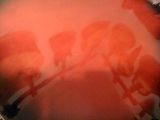 So, next on the list will be getting a proper style bridge, as the fret wire one is definitely not right.... Looking at a few on ebay, and will hit some of the local guitar shops this week and see if i can find something local..... But at least i got a good start on the restoration all in the first 10hrs of ownership.....LOL